CD - Swiss Monasteries Music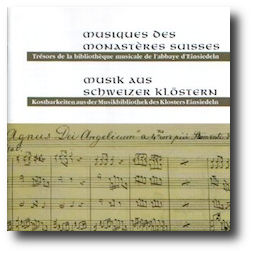 The production of a CD had been on the wishlist of the RISM for a while. In 2009, it became possible to achieve this.
The CD is based on recordings produced at the Saint-Michel church, with the exception of the Magnificat by Anselm Schubiger - a contrafacta on excerpts of the Mozart opera "Le nozze di Figaro". It is performed by an ensemble specialized in early music, Capriccio Basel, the vocal ensemble Cappella Murensis, and solo singers specialized in sacred music, under the direction of Johannes Strobl.
The CD contains mostly liturgical works from the 18th century, starting with two compositions by Giovanni Battista Sammartini (1701-1775): the Miserere and the Beatus vir, the second being a contrafacta. The contrafacta is based on a work that very early on made its way to the affiliated monastery of Bellinzona, and then through the Alps to the principal monastery of Einsiedeln. The CD also includes two original compositions from the internal production of the benedictine monastery of Ensiedeln. The two works, one by P. Gerold Brandenberg (1729-1795) and the other by P. Marian Müller (1724-1780), were specially composed for the Engelweihe feast, which is still widely celebrated today. The Magnificat by Schubiger mentioned earlier, played during a concert at the international RISM days organised within the IMS congress in 2007, concludes the CD.
Press articles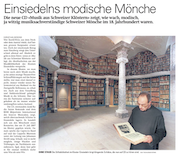 Einsiedelns modische Mönche - Die neue CD «Musik aus Schweizer Klöstern» zeigt, wie wach, modisch, ja witzig musiksachverständige Schweizer Mönche im 18. Jahrhundert waren.
Mittelland Zeitung, 17. Juli 2010, S. 23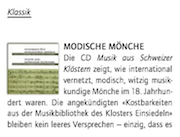 Modische Mönsche
Du, Nr. 881, November 2010, S. 104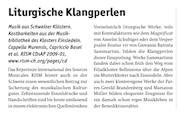 Liturgische Klangperlen
Schweizer Musikzeitung, Nr. 12, Dezember 2010, S. 37